Samsung Galaxy S6
Video
Samsung Galaxy S6 Price in India
More Details »
Rs. 33,900 + Rs. 0 (FREE Shipping)
EMI
Return Policy: 3 days
Delivery: 3-4 Days
Buy →
×
More Details »
Rs. 50,172 + Rs. 0 (FREE Shipping)
EMI
Return Policy: 10 Days
Delivery: 2-4 Days
Buy →
×
Key Specifications
16 M.Pixels rear & 5 M.Pixels selfie
cameras
Single SIM (Nano-SIM)
SIM
Android OS, v5.0.2 (Lollipop)
OS
Pros & Cons
Good things
One of the most beautifully designed smartphones, extremely compact too
Top-notch build quality, glass and metal do a brilliant job here
The display takes user experience to a new level, punchy colours and high brightness
Redesigned TouchWiz is now very neat and free of bloatware
The only high-end processor this year to provide performance without heating up
Benchmark setting camera performance, loaded with tons of hardware features
Touch-based fingerprint is a first in a Samsung device, works perfectly
Charges extremely fast
Bad things
Poor battery life, major battery drain issue
Device lags under load due to the insufficient RAM
Temperature and humidity sensor missing that was present in its predecessor
Questions and Answers
Does it support dual 4G sim?
Answer: No, it is single sim device. This sim is 4G supported.
By Sutara** on 10th May, 2017
Answer: Yes, it's working with dual 4G.
By Chanduk** on 22nd Jun, 2017
Answer: Yes, it supports 4G with VoLTE.
By Handsom** on 09th May, 2017
Answer: One 4G sim supported.
By Shersi** on 23rd Jun, 2017
Answer: Single.
By Chattovipul** on 10th May, 2017
More Answers (4)
Is this a 4G mobile?
Answer: Yes, one sim works on LTE network and second sim on 2G.
By Shahnawa** on 27th Apr, 2017
Answer: Phone is best but not support VOLTE and double sim
By Gurve** on 26th Apr, 2017
Answer: Yes, it is 4G mobile with VoLTE calling.
By Rajcoo** on 02nd May, 2017
Answer: Yes.
By Prakhar** on 22nd Jun, 2017
Answer: Yes.
By Mahendra** on 22nd Jun, 2017
More Answers (4)
Does it support VOLTE?
Answer: Yes, it supports VoLTE.
By Shahnawa** on 27th Apr, 2017
Answer: Yes, It supports VOLTE.
By Srikanth on 24th Apr, 2017
Answer: Yes, but not for call.
By Gsjas** on 21st Jun, 2017
Answer: Yes.
By Mahendra** on 22nd Jun, 2017
Answer: Yes.
By Chanduk** on 22nd Jun, 2017
More Answers (4)
Is this a GSM mobile?
Answer: Yes, it's a GSM mobile.
By Shahnawa** on 27th Apr, 2017
Answer: Obviously
By Pradee** on 23rd Jun, 2017
Answer: Yes.
By Mahendra** on 22nd Jun, 2017
Answer: Yes.
By Chanduk** on 22nd Jun, 2017
Answer: Yes
By Anan** on 22nd Jun, 2017
More Answers (4)
Samsung Galaxy S6 Video Review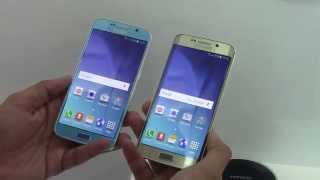 Samsung Galaxy S6 Price in India starts from Rs. 50,172
The best price of Samsung Galaxy S6 is Rs. 50,172 in Amazon. is not available in other online stores.This phone is available in 32 GB, 64 GB, 128 GB storage variants. Samsung Galaxy S6 is available in Gold, White, Black colours across various online stores in India.
About the phone
The Samsung Galaxy S6 is a flagship phone that runs Android 5.0.2 Lollipop OS
Its curved screen variant are Samsung Galaxy S6 edge and the next variant is Samsung Galaxy S7
The device has a 5.1-inch Quad HD Super AMOLED screen with a pixel density of 577 PPI
The smartphone has a 16 MP rear camera with OIS and dual tone flash and a 5 MP front camera
It is powered by a 64-bit octa-core (2.1GHz + 1.5GHz) Samsung Exynos processor paired with LPDDR4 RAM 3GB RAM
It has 32GB internal storage
Connectivity options include LTE Cat 6, Wi-Fi 802.11 a/b/g/n/ac, Wi-Fi Direct, Bluetooth 4.1, Infrared, NFC and microUSB 3.0
The smartphone is powered by a non-removable Li-Ion 2,550 mAh battery
Samsung Galaxy S6 Details
The

Samsung Galaxy

S6 is a flagship device coming from Samsung that runs the Android 5.0.2 Lollipop operating system out-of-the-box, featuring amazing specifications. Packed with a powerful processor, the Samsung Galaxy S6 makes for an amazing phone in its price point. This device is also available in several color options, such as white, black, gold and blue.

It consists of a 5.1-inch Super AMOLED capacitive touchscreen having high quality QHD (2560x1440 pixels) display resolution which translates into a pixel density of 577 PPI. The display also features Corning's Gorilla Glass 4 technology for scratch resistance.

The Galaxy S6 offers a 16-megapixel rear camera with a /1.9 aperture. The device also features additional imaging options, such as optical image stabilisation, auto HDR, 4K video capture, dual video capture and IR white balance detection. There is also a 5-megapixel

secondary camera

that comes with an aperture of /1.9, making it an ideal device for low-light selfies. The device records videos at a resolution of 2160 pixels at 30fps.

The smartphone is powered by a 64-bit Exynos 7420 chipset with 14nm architecture. The

octa-core

processor includes a quad-core CPU clocked at 2.1GHz & another quad-core chipset clocked at 1.5GHz. It also has a Mali-T760MP8 GPU with eight cores, making it one of the fastest GPUs available in 2015.

In terms of memory, the Galaxy S6 has LPDDR4 RAM and 32GB internal storage which is designed using the UFS 2.0 standard, which allows faster data access. The

fingerprint sensor

of the Galaxy S6 has seen a generation of change. Unlike the S5's swipe based input, it works on touch to register a user ID, taking security to a whole new level.

The device transfers data through dual-band 802.11a/b/g/n/ac Wi-Fi, Wi-Fi Direct, LTE Cat 6, NFC, Wi-Fi hotspot, Bluetooth 4.1 and A-GPS. It also comes with a smart wallet service, Samsung Pay, that can double up as a credit or debit card when tapped against a shop's NFC chip reader to transmit magnetic stripe data.

The phone runs on a non-removable 2,550mAh battery on board and comes with fast charging option, which is capable of four hours' power back-up in just 10 minutes. The Galaxy S6 also has Qi (WPC) and PMA wireless charging support. This Samsung device also offers an Ultra Power Saving mode in which you can reduce your battery usage by canceling unnecessary functions and giving you more flexibility in terms of sustaining your battery.

In terms of connectivity, the Samsung S6 offers several options - WiFi 802.11 a/b/g/n/ac, dual-band, Wi-Fi Direct, Bluetooth 4.1, GPS, NFC, Infrared port and a microUSB 2.0 slot.
Ratings & Reviews by MySmartPrice Users
Samsung....good job
By Nishit • May 4, 2015
As samsung is a big brand it launched its new phone of galaxy series...i.e Galaxy S6. this phone also offers the power, technology and other things we need from a good brand. Its available online at as low as Rs 45999 and in market too. this phone also has some pros and some cons as no phone is perfect....
PROS
It offers 4G LTE connectivity i.e you would always experience high speed internet surfing. 4G offers a speed upto 150MBps for upload and download. There is less chance to fall back to 3G or 2G.Nowadays 4G is required.
Screen, it has a 5.1 inch with 70.7% screen-to-body ratio and a resolution of 1440 x 2560 pixels. it offers a super amolded screen with a pixel density of 577, which is sharp enough. A big, better and sharper screen means better gaming, movie watching,etc. The screen is responsive and strong.
Protection, it offers very good protection, it is protected by Corning Gorilla Glass 4, The gorilla glass does not alllow fingerprints on the screen, and is stronger rthan any older version of gorilla glass and other glasses.
Android, it does not run the latest android 5.1 Lollipop, nut its still the latest version i.e Android 5.0.2. It offers samsungs touch wiz UI which is smooth and easy to use.It offers a lot of new features.
Processor, it has the latest samsung Exynos 7420 Quad-core 1.5 GHz Cortex-A53 & Quad-core 2.1 GHz Cortex-A57, it means it is octa core (QUAD+QUAD core) and offers performance. The processor is very powerful and has no lags at all.the benchmark test is also high, which means it is very good. It also has the MALI-T760MP8 GPU, which means there will be no lag in graphics and gaming.
Another PROS is the RAM, it has 3GB RAM which is more than enough, if you are a heavy gamer then this would really help you. After boot up 1.7-2.3GB RAM is available, which is enough for good and responsive performance. A powerful processor needs a powerful companion which is 3GB RAM.
Colour choices, it may not be a pros fro many of you but still it offers a large collection of colours. it is available in White Pearl, Black Sapphire, Gold Platinum, Blue Topaz, but all are not available in India.
Camera, though the camera's pixels are low, i.e 16MP and 5MP, but this shooter is a big pros. The camera quality is very good. It offers a 16mp primary camera with a resolution of 2988 x 5312 pixels and has optical image stabilization, autofocus and a powerful LED flash. The front camera is good for selfies, video calling and everything else the front camera is for. it is a 5MP shooter with [email protected] resolution and has a feature for dual video call it also has auto HDR.the camera quaity on both the shooters is very good.
It also has Fingerprint sensor (PayPal certified) and Samsung Pay (Visa, MasterCard certified) which is useful for payments and other things.

CONS
Some may have this problem,that it does not have an SD Card slot. Though its available in 32/64 and 128GB. people who own the 32 GB model and want to store too much then this would be a problem.
battery, it has a Non-removable Li-Ion 2550 mAh battery, it non removable that means if it gets damaged then it cannnot be replaced, and only 2550mAh is less for a powerful and high performance phone.In addition to that it has android which consumes a lot of battery.
NO FM RADIO, this is a problem people who liike to listen to the radio then it is a problem.

Overall this phone is very good and value for money. If you want a good phone from a good,reputed brand and are ready to pay high then this is the best phone for this price.
I PREFER THIS PHONE:)
Screen 5/5
Protection 5/5
Processor 5/5
RAM 5/5
Camera 4.8/5
Battery 3/5
Memory 4/5
Build 5/5 (good and slim only 6.8 mm)
Connectivity 5/5 (fast Wi-Fi, Bluetooth v4.1 (A2DP, LE, apt-X),GPS, Infrared, NFC.)
Charging 5/5 (Fast charge, wireless charging)
Others 4.8/5
Overall 4.69/5
A fantastic "change" by samsung. Awesome product.
By Kshitij Gupta • May 22, 2015
This device is a lot different from the previous S series smartphone from Samsung. And this is a welcome change. Here is what I like and dislike in this product:
Pros:
--> The design is fresh. It has metal sides which feel premium and have glass back and front. It's a really good
Looking phone.
--> Speakers quality is vastly improved and is louder now. I like the new placement at the bottom of the phone
rather than the back.
--> Fingerprint sensor is improved and works flawlessly now.
--> New colors breathe a fresh air into the smartphone.
--> The display is simply amazing at 2K resolution and is vibrant. And multitasking with the 3GB of RAM is easy.
--> Graphics performance is super awesome and smooth thanks to the Exynos octa core chip with an
Amazing GPU.
--> The camera is superb. A 16MP back camera which takes brilliant images and has many modes inlcluding
Panorama, Photo Sphere etc. It can record videos in 4k. The front 5MP camera is good too.
--> The front and back glass are protected by Corning Gorilla glass 4.

Cons
--> The back glass is a fingerprint magnet. You will see many smudges and fingerprints on it and will need to
Clean it repeatedly.
--> There is no Micro SD card slot and more storage variants cost a bit more.
--> The battery is non replacable and I found it to be pretty average. Good for a normal user though. For others,
I recommend a powerbank.
--> Touchwiz is not the best UI around but certainly is much better than before. But android lets you customize
That.
--> The heart rate sensor is useful only to some poeple and otherwise it is just a gimmick.
--> No matter how strong it may be, because the back is glass therefore you might crack it if you drop it from a
Good height.
--> The phone is no longer dust/water proof like the s5.

Conclusion:
This phone like all others has its pros and cons, but definitely the pros are amazing and the cons can be done away with using some tweaks like themes, using a case to protect the glass etc.
I highly reccommend this phone to everybody confused over it. It is fast, call quality is great and it is the best S series smartphone by Samsung to date. If you have some extra bucks to spare I recommend the S6 Edge for it's unique design. For alternatives do have a look at the HTC One M9+
galaxy s6 is great for camera
By MySmartPrice User • August 23, 2015
Galaxy s6 is the excellent smartphone because this is type camera configuration you can get only in professional camcorder. If you want 4k Camcorder atleast you should pay 40000 rs but you can get this option by buying galaxy s6. Not only 4k but also great camera sensor with1.9 aperture.So with this phone can live your sweet memories . congrats galaxy s6
Everything is good but one major mistake is not expandable memory because when we shoot 4k video it consume 320 mb per minutes so it is not possible to take at least one hour video buy inbuilt memory
best then rest
By MySmartPrice User • May 20, 2015
its a best phone which i have used till date .
best things
1- display
2- battery and charging capability
3- high end performance
4- bestest camera
5- best looking phone
cons
No fm ( seriously no need after using it)
Excellent Phone. Go for it.
By MySmartPrice User • May 17, 2015
The hand hold feel of the Samsung Galaxy S6 is too good to resist. It is convenient to hold and use. Image quality is awesome. Call quality is superb. the only catch in buying Samsung flagship is that there is always a post purchase dissonance as the price keeps coming down and down.....

No need for outer cover as gorilla glass 4 is scratch proof as outer cover changes the hand holding feel of this flagship.
Similar Products
Mobile Phones in Price Range Similar to Price of Samsung Galaxy S6
All prices in the above table are in Indian Rupees.
Cashback will not be credited for purchases made on Amazon.
The latest price of Samsung Galaxy S6 was obtained on 24th August 2017 02:16:44.
The Samsung Galaxy S6 is available in Infibeam, Amazon.
The price is valid in all major cities of India, including Bangalore, Hyderabad, Chennai, Mumbai, Delhi and Pune. Please check instructions at the specific stores for any deviation.
Buy Samsung Galaxy S6 online in India for the lowest price. You can also avail the options of Cash on Delivery (COD) and EMI on purchase of this product. Samsung Galaxy S6 is available in Gold, White, Black colours across various online stores in India.
Popular Mobile Price Lists