OnePlus 3T
Images
Video
Share
Features a
5.5-inch Full HD resolution Optic AMOLED display
. Runs
Android 6.0-based Oxygen OS on a Snapdragon 821 chipset with 1.6GHz quad-core CPU
. Latest variants of this mobile are
Oneplus 5
and
Oneplus 5T
. Has a
6GB RAM and 64GB of storage space
. Has a
16MP rear camera with f/2.0 aperture, OIS, PDAF, LED flash, HDR and a 16MP front camera
. Powered by a
3,400mAh battery
with
Dash Charge technology
.
Dual nano-SIM phone supports 4G LTE, Bluetooth 4.2, Wi-Fi 802.11 a/b/g/n/ac, NFC, USB Type C
.
(read more)
OnePlus 3T Price in India
Refurbished
Subscribe to set Price Drop Alert
Subscribe to our Whatsapp bot to get price drop alert on subscribed products directly in your Whatsapp
Subscribe on Whatsapp
Key Specifications
16 M.Pixels rear & 16 M.Pixels selfie
cameras
Android OS, v6.0 (Marshmallow)
OS
Pros & Cons
Good things
Great battery life with Dash charging
Super-fast performance
Good camera quality even in low-light
Vibrant display
Bad things
No expandable storage
Single speaker at the bottom
Latest News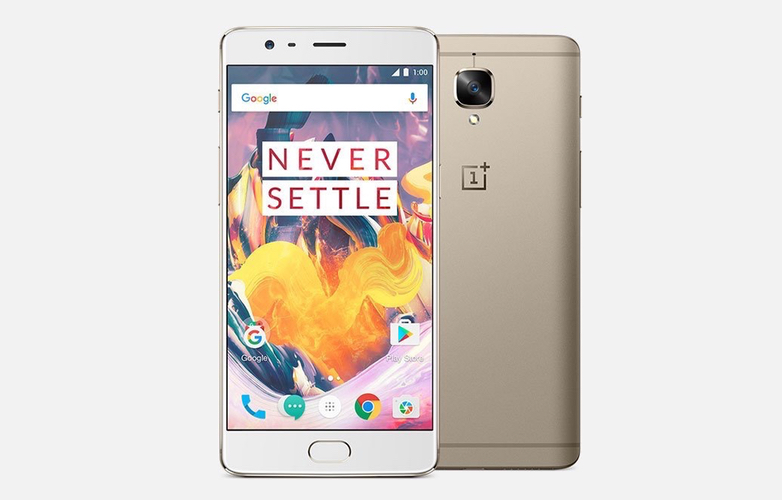 OnePlus 3 and 3T receive new OxygenOS beta update with Face Unlock and support for Airtel VoLTE
OnePlus today announced the release of the latest OxygenOS Open Beta builds for the OnePlus 3 and OnePlus 3T smartphones The latest update arrives as Beta 21 for the OnePlus 3T and Beta 30 for the OnePlus 3 Perhaps the most interesting new feature that the update brings to the table is the much an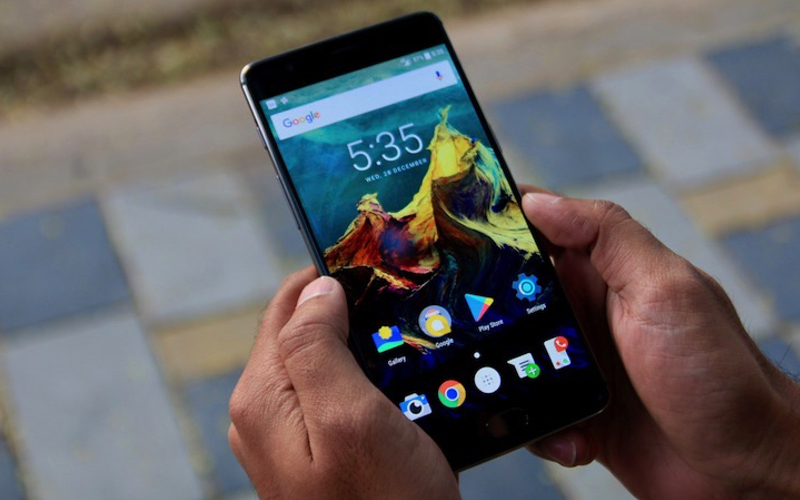 OnePlus 3 and 3T get aptX HD and soft screen calibration with the OxygenOS 5.0.1 update
OnePlus is rolling out a new update to the OnePlus 3 and the OnePlus 3T The new update is the OxygenOS 501 The update package has a size of 147GB However if you are already on Oxygen OS 50 then the update package size will be much smallerThe update brings with it a host of new features
Questions and Answers
What advantage OnePlus 3T have over iphone 7?
Answer: Specs for the iPhone 7 Plus: - Display: 5.5in Retina HD display with 1920x1080 resolution at 401ppi, 3D Touch enabled - Dimensions: 158.2mm x 77.9 mm x 7.3 mm - Weight: 188 grams - Storage: 32, 128, or 256GB - Memory: 3 GB RAM - Processors: A10 - Front camera: 7 MP - Rear camera: 12 MP Dual Lens - Battery: 2900 mAh Specs for the OnePlus 3T: - Display: 5.5in display with a 1920x1080 resolution at 401ppi - Dimensions: 152.7mm x 74.7 mm x 7.35mm - Weight: 158 grams - Storage: 64 or 128GB - Memory: 6 GB RAM - Processors: Qualcomm Snapdragon 821 - Front camera: 16 MP - Rear camera: 16 MP - Battery: 3400 mAh OnePlus 3T is the best android phone currently available in the market. OnePlus 3T of
By Vaike** on 11th Jan, 2017
Answer: I dont have iPhone 7 . I cant compare. In iPhone 7, games loads faster. You can check on youtube the differences. But iPhone is double the price of 3T. If you have money (to waste) buy iPhone 7. I bought the phone according my usage not according to what phone provides. If phone provides a great feature which is of no use to me, I dont take it in my calculation. Example: iphone is expensive. It has a better camera. Is photo that important to you? Decide.
By Rahulma** on 11th Jan, 2017
Answer: Cheaper but a solid phone. Save your money for something important and betterment in your life.
By Anton** on 02nd Jan, 2017
Answer: Major advantage is less price, dual sim and android version which gives access to more apps..
By Charu** on 30th Dec, 2016
Answer: It's Android, has 6GB RAM, 16 MP Camera and perfomance.
By Sud** on 09th May, 2017
More Answers (4)
is this mobile phone is good or not?
Answer: iam extreme satisfied. Very Fast : in charging, in performance in fingerprint operation. Heavy games smooth run. battery life very good. selfie camera very good. absolute zero heating problem. very impressive in look(gun metal colour). at very first day it fell down from my hand-no damage at all. People use to ask hey...which phone is this..when they look it in my hand. storage-64 gb pretty enough..graphics ultimate.. feel proud to own it.
By Sarv** on 20th Feb, 2017
Answer: Its one of the best phones i have seen till date. And this is my view after using it extensively for over a month. This is hands down better than any other offering in its its price range. And compares well and also over performs in some aspects the likes of iPhone, Pixel and Galaxy S7. Don't even think twice if your budget permits you to buy it.
By Adity** on 26th Feb, 2017
Answer: yes its very good also it is fast. the camera is also very clear but it give grains in night but i guess its ok every camera gives grains due to 6 gb ram its processing unit is fast the front camera is better than other phones.
By Ved.i** on 08th Mar, 2017
Answer: The phone is working well so far. Good camera and battery life.
By Sakal.** on 11th Mar, 2017
Answer: its a gud phone awesome look and specifications
By Jango** on 06th Mar, 2017
More Answers (4)
How long the battery will last once it fully charged?
Answer: It will last for a day & a half if you are a normal user. I don't play much heavy games on it. The phone is on 4G mode for the whole day & I turn off the data before I go to sleep. Full day of Facebook, WhatsApp, some other apps & you are left with some juice the next day as well. Its always recommended to not let your phone gets completely dry. Its always good to put it on charging when your phone has at least 10% to 15% of juice left.
By Shree** on 27th Jan, 2017
Answer: 3400 mAh battery. I have checked full day with wifi and gaming(asphalt8 , fifa16,WWE) very good. Battery charging experiance is superb. in 20 minutes u will get 80% of day use if u r normal user hardcore gamers like me get 60% battery of day. 1 hour charging is enough for use upto next day. Video Recording Quality of Video is very good specially video recording with sound u will get best sound quality than any same budget phone.
By Vikas** on 03rd Jan, 2017
Answer: Assuming you have disabled device administrators and location history , the battery drops to 45? at night with moderate usage like games,news,calls,WhatsApp,Facebook etc after 100? charge in the morning...But if location history and device administrators are on then battery drops to 30? with same usage and drops to 8? overnight in idle state as well..
By Vvsrn** on 24th Jan, 2017
Answer: With wi-fi, gps and mobile data all switched on it lasts about 16-18 hours on a full charge. Without gps and mobile data I have had a day and half before it comes down to 10%.
By Bk_** on 22nd Jan, 2017
Answer: I haven't had a day less than 10% battery in the one month that I have used. So, I would say a day of battery charge without any hesitations.
By Sanja** on 24th Jan, 2017
More Answers (4)
Does it have any heating issues?
Answer: yes this phone has heating issue. I have taken up this with company one+ but they can resolve the issue and say this is normal to heat the the phone. heating also affect battery consumption for which also they do not have any solution. replacement is also not offered as 10 days time is passed till the time I could understand the problem of heating and battery consumption.
By Rbj** on 24th Mar, 2017
Answer: As this is a new phone for me in last 7 days, I have not faced heating issues though I stream video's 2 times one hour each
By Gagan.** on 24th Mar, 2017
Answer: Yes, since the battery capacity is high, it has minor heating issues not up to the tune of One Plus 1 and 2.
By Parthib** on 07th Apr, 2017
Answer: no...never
By Sarv** on 26th Mar, 2017
Answer: A little.
By Akhilp** on 26th Dec, 2017
More Answers (4)
What are the accessories do we get with this mobile?
Answer: It comes with a handset, dash Type-C cable, dash power adapter, SIM tray ejector, screen protector (pre-applied), safety information and quick start guide.
By S on 27th Sep, 2017
Answer: It comes with Handset, Dash Type-C Cable, Dash Power Adapter, SIM Tray Ejector, Screen Protector (pre-applied), Safety Information and Quick Start Guide.
By Shiva on 29th Sep, 2017
More Answers (1)
OnePlus 3T Price in India starts from Rs. 26,999
The best price of OnePlus 3T is Rs. 26,999 in Ebay. is not available in other online stores.This phone is available in 64 GB, 128 GB storage variants. OnePlus 3T is available in Gold colours across various online stores in India.
OnePlus 3T Details
The OnePlus 3T is a variant of the

OnePlus

3 but with an advanced Qualcomm Snapdragon 821 chipset with a 1.6GHz quad-core processor as opposed to the OnePlus 3's 820 chipset with a 2.15GHz processor, aside from which both phones will sport the same specs.

Display and Design

The phone features an optic AMOLED display that shows brilliant colors with contrast measuring

5.5-inches

with Full HD resolution and Corning Gorilla Glass 4 protection. The phone is encased in an aluminium unibody.

Platform and Memory

The device runs Android 6.0-based Oxygen OS on the Snapdragon 821 chipset with a 1.6GHz quad-core processor and a whopping

6GB of RAM

that should make any task a breeze to run. Storage space on the phone is limited to 64GB with no card slot for memory expansion.

Cameras and Battery

The phone features a 16-megapixel rear camera with an f/2.0 aperture, PDAF, OIS for correcting shaky pictures, LED flash for low light conditions, that takes quality images while being capable of Full HD, HD video recording. The front of the phone has a 16-megapixel camera that also takes quality images with its f/2.0 aperture. The front camera also records in Full HD. The battery on the phone is 3,400mAh that lasts over a day, and with Dash Charge technology, the phone is charged to a large extent in a small span of time.

Connectivity and other features

The dual nano-SIM phone supports

4G LTE,

Bluetooth 4.2, Wi-Fi 802.11 a/b/g/n/ac, NFC and a microUSB Type-C port. Sensors on the phone include an accelerometer, gyroscope, ambient light sensor and a proximity sensor.
Ratings & Reviews by MySmartPrice Users
OnePlus is a very bad mobile.
By MySmartPrice User • January 2, 2017
I bought OnePlus mobile and I had lot of expectations from this mobile, but this is very low standard mobile with so many problems. Bad camera quality, no facilities of making folder. No delete facility in contacts and so on. Please don't buy it.
OnePlus 3T is a fantastic phone.
By Gurpreet Singh • May 9, 2017
The dash charging is amazing and no hanging issue , battery backup is for one day. Camera quality is also good, Sound is loud and clear, But tempered Glass is very costly.
Five star rated phone.
By MySmartPrice User • December 28, 2016
Awesome phone with 6GB RAM and 128GB internal memory, it's in the top list, awesome brand.
Worst mobile phone ever.
By MySmartPrice User • January 2, 2017
Dirty mobile, Worst qualities. Please never buy it. Don't regret later on.
Great phone with great specs.
By MySmartPrice User • July 20, 2017
This phone has got all the features that one wants. Price is also good and over all you will love it. It's really a flagship killer.
Similar Products
Mobile Phones in Price Range Similar to Price of OnePlus 3T
All prices in the above table are in Indian Rupees.
Cashback will not be credited for purchases made on Amazon.
The latest price of OnePlus 3T was obtained on 18th February 2018 04:12:54.
The OnePlus 3T is available in Ebay.
The price is valid in all major cities of India, including Bangalore, Hyderabad, Chennai, Mumbai, Delhi and Pune. Please check instructions at the specific stores for any deviation.
Buy OnePlus 3T online in India for the lowest price. You can also avail the options of Cash on Delivery (COD) and EMI on purchase of this product. OnePlus 3T is available in Gold colours across various online stores in India.
Popular Mobile Price Lists