Apple iPhone 7
Images
Video
Share
The Apple iPhone 7 features a
4.7-inch display
. It is powered by a
Apple A10 64-bit processor
and
2GB RAM
. Next variants of this mobile are
iPhone 8
and
iPhone X
. The other variant of this mobile is
iPhone 7 Plus
. The iPhone 7 sports an
12MP rear camera
with
dual-tone LED flash
and a
7MP front camera
. The phone has
32GB of non-expandable internal storage
. Connectivity features include
Wi-Fi 802.11 a/b/g/n/ac, 4G LTE, Bluetooth 4.0, NFC, and reversible lightning port
. The iPhone 7 comes with a
non-removable Li-Po 1,960mAh battery
. It runs on the
iOS 10 operating system
.
(read more)
Apple iPhone 7 Price in India
Subscribe to set Price Drop Alert
Subscribe to our Whatsapp bot to get price drop alert on subscribed products directly in your Whatsapp
Subscribe on Whatsapp
Key Specifications
12 M.Pixels rear & 7 M.Pixels selfie
cameras
Single SIM (Nano SIM)
SIM
Pros & Cons
Good things
Good 12MP camera with OIS
First iPhone to feature water and dust resistance
Stereo speakers
Extremely powerful & efficient quad-core Apple A10 Fusion chipset
7MP secondary camera
Outstanding battery backup performance
Bad things
Dual-camera setup is absent
No 3.5mm audio jack
Wired music listening, and charging at the same time is not possible
Latest News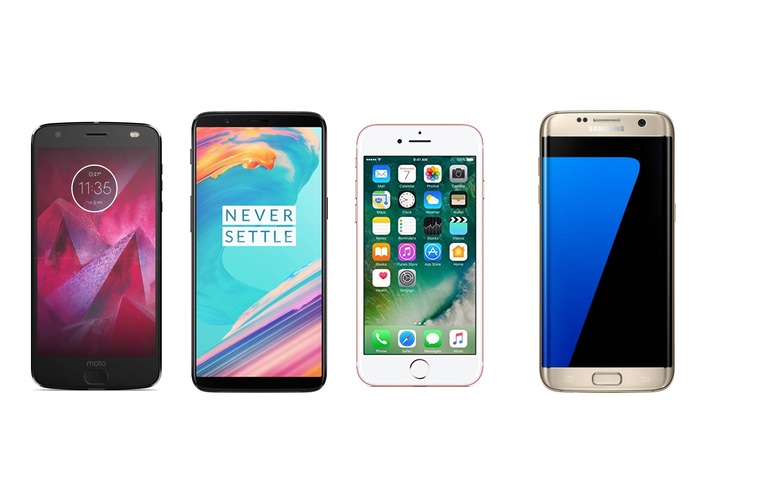 Moto Z2 Force vs. OnePlus 5T vs. iPhone 7 vs. Samsung Galaxy S7 Edge: Price in India, specifications comparison
Motorola is all set to launch its newest high-end handset the Moto Z2 Force in India on February 15 While the handset belongs to the Z-series for us Indians the Z2 Force is the spiritual successor to the Moto X Force that was launched by the company in India back in 2016 As already outlined in a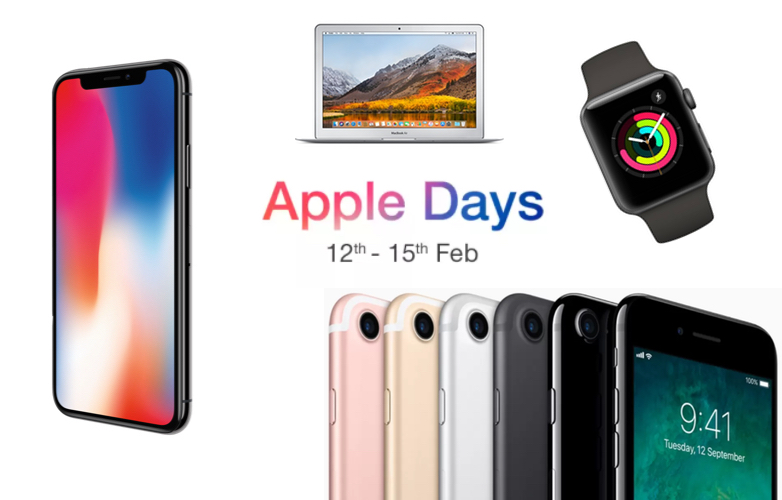 iPhone X, iPhone 8, iPhone 7 Price in India drop by Rs. 6,000 on Flipkart 'Apple Days': Check out the Offer Details, Sale Date, Specifications
If youre looking to upgrade your iPhone or even explore the Apple ecosystem for the first time here is an offer that you should definitely consider The Apple Days festival on Flipkart ensures you can get your hands on an Apple smartphone at a sweet discount The Apple Days offer is on from th
Questions and Answers
How to use two sims and a memory card in this phone?
Answer: Unfortunately you can not use two SIM cards or a memory card with the iPhone 7. Apple does not offer dual SIM card slot or a memory card slot. That said, Apple is indeed working on a SIM solution that will allow using two mobile numbers with just one SIM card. The company has filed for a patent last December of working on such a solution. As of now, there is no timeline to expect it to be included in the coming iPhone model.
Answer: Can't use two sims and memory card because it has no slots for this.
By Gopal** on 13th Jul, 2017
Answer: You cannot use it as there is no dual SIM slot.
By Arupa** on 28th Nov, 2017
Answer: This is not a dual SIM phone.
By Malli** on 13th Jul, 2017
More Answers (3)
Is it comfortable to hold in hands or is it slippery?
Answer: The phone is very comfortable to handle, not slippery. However, in case you choose to buy a back cover, then it won't matter much.
By Ankitse** on 26th Dec, 2017
Answer: It's very comfortable.
By Mrigank** on 09th Dec, 2017
Answer: It's comfortable.
By Rudrad** on 01st Jan, 2018
More Answers (2)
Which one is is good Google pixel or iPhone 7?
Answer: The Pixel might be overpriced for the brand, but it has a better camera. It's also by far the smoothest Android experience on offer. The iPhone has better design and build quality, and iOS on a whole has a better app ecosystem than Android. At the end of the day, it depends on which one of these parameters do you value the most.
By Nachiket on 06th Apr, 2017
Answer: Google Pixel has better camera and its Google Assistant is way better than Siri. But, if you see long term performance you should go with iPhone 7. If you have a used iPhone before and you want a change, then you can try Google Pixel.
By Patel.p** on 15th Apr, 2017
Answer: Both are good.Google pixel for the best software,camera,best android experience.Iphone for best hardware,design, simplicity.
By Mallik** on 09th Apr, 2017
Answer: iphone 7.
By Ktda** on 03rd May, 2017
Answer: iphone 7
By Viren.** on 30th May, 2017
More Answers (4)
Is 32GB sufficient to use and what is the available storage limit of this phone?
Answer: In case you do not upload a lot of songs on your device, it should suffice your requirement!
By Ankitse** on 26th Dec, 2017
Answer: Sometimes, it's not. It depends on your usage.
By Arupa** on 28th Nov, 2017
Answer: Yes.
By Rudrad** on 01st Jan, 2018
More Answers (2)
Does it have a wireless charging feature?
Answer: No, it doesn't have a wireless charging feature.
By Shiva on 03rd Jan, 2018
Apple iPhone 7 Price in India starts from Rs. 42,999
The best price of Apple iPhone 7 is Rs. 42,999 in Flipkart, which is 12% less than the cost of in (Rs. 49000).This phone is available in 32 GB, 128 GB, 256GB storage variants. Apple iPhone 7 is available in Gold, Black, Silver colours across various online stores in India.
Unique Features
A10 Fusion Chip
OIS Equipped 12MP primary camera with dual-tone qual-LED flash
7MP FaceTime HD Camera
Touch Sensitive Home Button
IP67 rated - Water and Dust Resistant
Apple iPhone 7 Details
First Waterproof iPhone

The new generation Apple iPhones always bring with them a host of new features that makes them the most technological advanced smartphones devices in the market. The Apple iPhone 7 intends to do the same, starting with its IP67 rated water and dust resistant all-aluminium metal body that makes sure that dust and rain don't stop you from doing things on your iPhone 7. The iPhone 7 and iPhone 7 Plus are the iPhone devices to feature

water

and dust resistance.

Force-Touch Home Button

The home button which doubles as a fingerprint scanner on the iPhone is now force-touch based button, meaning it does not press inside. Instead, it gives a sense of tap with the help of haptic engine which is a vibration motor.

3.5mm Audio Jack Is Gone

The only disadvantage some may find is the omission of the 3.5mm audio jack, Apple iPhone 7 now uses the lightening connector to power the headphones, although Apple is providing lightening to 3.5mm connector with the device.

The New Jet Black

Talking about the new colour variants, the Apple iPhone 7 now comes in two more colour options jet black and black while older colour variants like silver, gold and rose gold are still present.

4.7-inch Retina Display With Wider Colour-Gamut

The display on the Apple iPhone 7 retains the same IPS LCD technology, but now it comes with wide colour gamut, that means now you can see more colours and the colours are punchier, accurate and differentiable. The 3D touch display further extends the usability and convenience by providing with multiple options and drop down menus based on the pressure applied to the screen.

OIS Equipped 12MP Camera

The Apple iPhone 7 is the first non-plus variant of iPhone to feature OIS (optical image stabilisation) in the primary camera; it was a much-awaited feature in the iPhone. The OIS is helpful in a plentiful of scenarios, such as it corrects the shakes caused by the user while taking image and video, it helps in letting more light into the camera sensor that results in brighter photos in the low-light conditions and much more. The 12MP primary camera now also features dual-tone quad-LED flash which has two more LED's than its predecessor that will result in 50% more light and it can cover 50% more distance. The surprising update to the iPhone 7 is the bump in the resolution of the secondary camera to 7MP from the 5MP on the iPhone 6s. The 7MP

selfie camera

now yields sharper, brighter and more detailed images.

iOS 10

Running the Apple iPhone 7 is the new iOS 10 operating system, it comes bearing with tons of new features that are focused on making the usage of the smartphone more convenient and fun. It starts as soon as you pick the device up, yes, the screen turns on itself as you pick the device up and turn it towards yourself, so now you have one less work of pressing the power button to wake the device. Apart from that the iOS 10 comes loaded with plenty of features added to iMessage, Maps, search and camera.

Apple A10 Fusion Chipset

The excellent software is driven with the help of Apple A10 Fusion chipset that now comes with quad-core configuration. The two cores among the four are high-performance cores which will only be working during heavy tasks and games while the other two cores are power-efficient cores that will take care of basic multitasking like calling and messaging. Apple promises 40% faster performance than the Apple A9 chipset found in its predecessor.

Increased Battery Backup

Talking about the battery backup, Apple promises 2 hours of increased web-browsing and video playback time compared to the iPhone 6s, while the standby time and the talk time remain the same. Note that the battery backup for video playback time, talk time, and music playback time are rated while using the Apple's wireless AirPod earphones.

Connectivity

The connectivity options don't receive any changes apart from the omission of 3.5mm audio jack as the iPhones already feature all the technologically advanced connectivity features such as

4G

, Wi-Fi b/g/n/ac, Bluetooth v4.2, NFC (Only for Apple Pay), GPS, and reversible Lightning connector.

Stereo Speakers

The iPhone 7 and 7 Plus are also the first iPhone's to feature stereo sound speakers. The bottom mounted speaker now produces more bass while the speaker situated at earpiece is tuned for treble, making the device ideal and more fun for listening music and watching videos. Apple promises 50% louder audio output through these stereo speakers.
Ratings & Reviews by MySmartPrice Users
Good phone but expensive.
By MySmartPrice User • November 21, 2016
I happened to check this phone with my friend, it does look very great performance wise, but the only negative point is that its price is high, I will wait till it gets a price cut in India.
My review.
By Tanmoy Maity • January 13, 2018
Superb.
By MySmartPrice User • December 28, 2017
It's excellent, just beyond imagination.

The top phone under 40k.
By MySmartPrice User • December 22, 2017
The good phone under 40k.
Super.
By MySmartPrice User • December 16, 2017
Similar Products
Mobile Phones in Price Range Similar to Price of Apple iPhone 7
All prices in the above table are in Indian Rupees.
Cashback will not be credited for purchases made on Amazon.
The latest price of Apple iPhone 7 was obtained on 18th February 2018 04:34:04.
The Apple iPhone 7 is available in Amazon, Flipkart, Gadgetsnow, Ebay, Gadgets360, Shopclues, Tatacliq, Croma.
The price is valid in all major cities of India, including Bangalore, Hyderabad, Chennai, Mumbai, Delhi and Pune. Please check instructions at the specific stores for any deviation.
Buy Apple iPhone 7 online in India for the lowest price. You can also avail the options of Cash on Delivery (COD) and EMI on purchase of this product. Apple iPhone 7 is available in Gold, Black, Silver colours across various online stores in India.
Popular Mobile Price Lists